Hi! I am in Brasil right now for dance researches.
You can join me in this dance workshop about "the wave". The ondulation of the column and sternum, starting from floor work and afro dances from Benin and ending up in a impro Jam.
At UFBA Universidade Federal da Bahia, 11/04/2014 at 7 P.M., Faculdade de dança, sala a definir.
Thanks to C.I. Salvador beautiful people 🙂
"L'ONDA" Poetica das ondas
Aguas fluem
Rosto relaxado
Paixâo
Dancemos leves!
Entre um trabalho contemporaneo no chão (floor work) e de passos de danza afro do Benin, a atenção sobre a ONDULAÇÃO do esterno e da coluna vertebral, convida à uma improvisação fluida.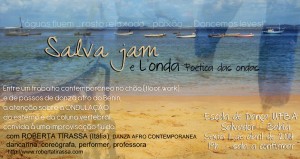 Social Share